Discover more from Davi Gray's Writing News
A place to find information on, and links to, Davi Gray's writing, writing-related events, and publications.
The moment you've all been waiting for! (No, not that one.)
But I do have some readings coming up. Open mics. Fascinabulosity! (Not a word. Or should I say, *wasn't* a word.)
I've actually got so much going on that I dare not put it all in the same post. Because I know y'all, and you won't read the whole thing, and you'll miss out. (Is this me, being controlling? Get your own newsletter, control that all you want 😉.)
I have been more or less regular at the Re-Verb Open Mics (put on by the good people at TruArtSpeaks) lately, and that will continue. So you can catch me most Thursday nights between 6 and 8 pm over at Flava Coffee & Cafe, located at 623 W. University Avenue in Saint Paul, MN. Here's some pix from the last one: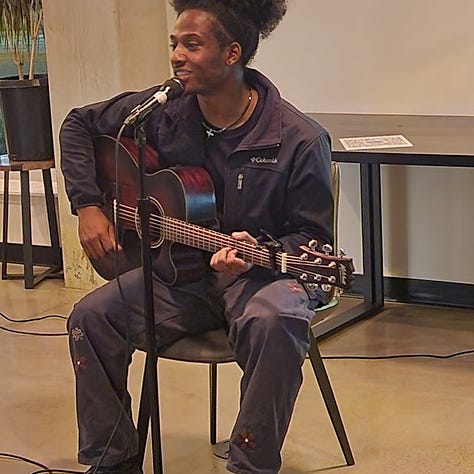 As usual, there were a lot of different styles and arts, including Desdamona with a couple of seriously hot pieces and another local star, Juice Lord, delivering some of his musical virtuosity as the night's featured artist. And…young man in the center of the gallery above, whose name I can't spell but will ask about next time I see him…has a very nice flow, and I see him at these open mics a lot. So, if you're within driving distance of the St. Paul on Thursday evenings, this is a great (free!) option.
And I have some more hot news on the Re-Verb front coming up real soon….
Oh, goodness, got lots more to say, but no time today to spit it out. The one thing you need to know immediately, though, is that MPWW (the Minnesota Prison Writing Workshop) has their Annual Student Reading coming up quick:
Saturday, October 28th, 2023
7:00-9:00 PM
Klas Center, Kay Fredericks Room (3rd Floor)
Hamline University
1537 W Taylor Ave,
St. Paul, MN 55104
The reading will also be live-streamed via Zoom. Registration is required! So get your tickets, people, and save the date. You don't want to miss this one. More on that in the very near future.
Again, sorry, out of time. Will have actually lots more news in the near future. Among that news, this publication will soon be moving to news.davigray.com; if something goes wrong, you should still be able to find it at its original Substackian address, davigray.substack.com. (By "moving" I mean its address will change; however, it'll still be a Substack newsletter, and hopefully 🤞🏼 there will be no link breakage along the way.)
Keep reading. Get some poetry in your life.